Look for 'Open Garden' signs
Seventeen wonderful gardens are on display. Enjoy their splendid autumn colours and be inspired by their diverse styles and designs.
Some gardens are long established, others only a couple of years in the making. You will find a range of exotic and rare trees, ornamental plantings, plus gardens directed towards sustainable food sources. There are formal gardens, wild gardens, artists gardens, orchards and farm gardens plus a community garden. learn about their methods, plantings and ideas.
Some offer a chance to enjoy tea/coffee, local produce or a light lunch.
Open Garden locations
Quick links by Area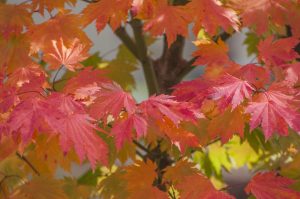 1. Chestnuttree Holiday Units
154 Delany Avenue, Bright
View map
---
Open: 10am - 4pm daily
Entry: Gold coin donation
Proceeds to Bright Autumn Festival

---
Three acres of landscaped gardens, rock walls, hedges, standard roses, dogwoods, maples, Mt.Fuji weeping cherries, catalpas, weeping elms & mulberries.
Rod & Marielle Porter (03 5755 2100)
2. Elm Haven
13 Railway Avenue, Bright. (Next to the Bright Museum)
View map
---
Open: Mon 30th April, Tue 1st, Wed 2nd, Thur 3rd, Fri 4th May      11am - 4pm daily
Entry: Gold coin donation. Proceeds to ESCA Dog Rescue

---
A town garden, set amongst 100-year-old Elm trees. A pretty setting with a semi-formal approach the plantings include azaleas, camellias and maples.
Christine Baker (03 5755 1534)
3. Bright Community Garden
1 Church Street, Bright. (behind All Saints Church)
View map
---
Open: Daily - 8am to 5pm
Entry: Free of charge. All visitors must sign the visitor's book on entry.

---
Bright Community Garden is a not-for-profit community project of Upper Ovens Valley Landcare Group. Our food forest has over 30 food trees and is heading into its third winter with trees planted in honour of families, community groups and loved ones. We have two rainwater tanks on site and have put in a system of swales to ensure efficient water catchment and use. We have and continue to collect recycled materials to build beds, a gathering shelter, wash station, compost and worm bays the list goes on and is ever evolving. We are striving to employ Permaculture design principles with zero chemical input, water saving design and closed system cycling of of nutrients and waste. In the near future we will be holding workshops and events to create a shared learning space and provide an opportunity for the community to access healthy local produce.
Nicola (0421 675 528)
4. Chalets Lumineux
414 Back Porepunkah Road, Bright
View map
---
Open: Fri 27th, Sat 28th, Sun 29th April, Fri 4th, Sat 5th and Sun 6th May - 11am - 3pm,
Entry: $2 per adult (children free). Proceeds to 'Save the Bees'         Light refreshment included

---
A beautiful, mature woodland garden, a variety of arbre, lovely setting to lose yourself in. Colourful oaks, liquidambar, silver birch, azaleas, camellias and much more. Plenty of parking and seating.
Julie  (03 5750 1700)
5. Tropical Paradise
7377 Great Alpine Road, Bright
View map
---
Open: Daily - 10am - 4pm,
Entry: Gold coin donation. Proceeds to 'Brighter Days' 

---
The rustic charm of this garden has a distinct tropical feel. You will find palms, ferns, a dry river bed and fish pond. Exhibits by local artist Tom Lawler. Historical Hut and brick-a-brac shop.
Lisa Buckley (0408 392 919)
6. Mt. Buffalo Olives
307 Mount Buffalo Road, Porepunkah
View map
---
Open: Fri 27th, Sat 28th, Sun 29th, Mon 30th April, Fri 4th, Sat 5th, Sun 6th May - 11am-5pm,
Entry: Gold coin donation. Proceeds to the Porepunkah CFA
---
Elisa and Colin invite you to come on a self-guided walk through the olive grove and arboretum they have established at the foot of Mount Buffalo.
Highlights include many well-established trees - a Wollemia Pine, bunya pines, forest pansys, oaks, weeping mulberries, weeping cherry, maples, ginkgos, ash trees, coastal redwood and many more. Get your mud-maps and species list of the trees at the Mt Buffalo Olives farm-gate shop at the top of the drive.
Elisa & Colin Bertuch (03 5756 2143)
7. Homestead Estate
713 Happy Valley Road, Rosewhite
(7.1km from Great Alpine Rd, Ovens)
View map
---
Open:  Sat 28th, Sun 29th Apr & Sat 5th, Sun 6th May - 10am-4pm,
Entry: $4 per person. Proceeds to 'Friends of Lacluta'
---
The garden was first established in 1869, the garden has seen many changes. Original trees include magnolia grandiflora (1872), a grove of elms and a Hoop Pine. Recent additions are an avenue of red oaks, ginkgos, silver birch, magnolias, manchurian pears, claret ash, two vineyards and an olive grove. Roses and peonies are the stars of the cottage garden.
Wine and olive oil tasting Devonshire are available. Tours of the Historic Homestead at 11am, 1pm and 3pm.
Noela Dawes & Michael Freudenstein                                                                     (03 5753 5318) or (0488 258 997)
8. Mystic Mountain Art & Framing Studios
46 School Road, Wandiligong
View map
---
Open: Daily (except Sat 28th Apr & Sat 5th May) -10am-4pm
Entry: $2  per aduld. Proceeds to 'Save the Children' - Garden plan and notes available

---
Please park roadside unless walking is difficult, as there are only 2 parking places near the house. Follow the flying fish down a 100m drive to an acre of gently sloping landscaped gardens with stunning views of Mystic. This is the home of two artists. Walk along paths and lawns connecting the two art studios. You'll find a mixture of deciduous trees in full autumn glory with under-stories of flowering shrubs and ferns. Visit
the large enclosed vegetable patch. You will find plenty of seats to relax on throughout the garden. The two art studios are open for viewing and have art works for sale.
Annemarie Wiegerinck & Barry Willcox (03 5755 1851)
9. Wandi Woods
40 Centenary Avenue, Wandiligong
View map
---
Open: By appointment only - please telephone first.
Entry: $5 Adults - children free - Proceeds to the Bright CFA

---
Set in the beautiful valley of Wandiligong around the corner from the Wandi Maze this 3/4 acre established garden contains an assortment of dogwoods, maples, silver birch, ash camellias and a variety of trees and shrubs which grow well in this beautiful area. At the rear of the property is a large bird proof vegetable and berry garden with a stream running nearby.
Nola & Kevin Woods (03 5755 1084 or 0400 955 277)
10. Nightingale Bros - Alpine Apples
708 Morses Creek Road, Wandiligong
View map
---
Open: Daily 9am - 5pm
Entry: Free

---
Many varieties of roses: standard, bush and weeping. Rhododendrons, azaeleas, hydrangeas, various conifers, poplars, maples, dogwoods and many acers.
Marianne Nightingale (03 5755 1318 or 03 5755 1127)
11. Wandiful Produce Farm & Cafe
795 Morses Creek Road, corner of Austin Lane
View map
---
Open: Daily (closed on Mondays) - 10am-4pm 
Entry: Free of charge

---
Abundant with mature trees in Autumn colour, our small chestnut farm is full of activity over this time of year. The chestnut trees are dropping nuts for harvest and our produce store and shed cafe is open offering a simple menu of seasonal produce inspired food. Check out our wicking beds, pick-your-own chestnuts, have a look at our pastured chickens that rotate around the orchard and take in the gorgeous valley views. A walk around our orchard is strongly recommended to be done in closed footwear. If you are bringing your dog, please pick up its droppings and keep it on a lead at all times.
Megan Hughes (0409 783 012)
12. Peetsfields
92 Caloutas Lane, Freeburgh (off Old Harrietville Road)
View map
---
Open: Fri 27th, Sat 28th, Sun 29th, Mon 30th April - 10am-4pm,
Entry: $5  Proceeds to 'Children First Foundation'
---
This is a large country garden with an interesting display of autumn trees and a multitude of beautiful shrubs and plants.
Sally & Martin Peet (0409 712 261) or (5755 1018)
13. Lavender Hue
20 Great Alpine Road, Harrietville
View map
---
Open: Fri 27th, Sat 28th, Sun 29th Apr, Thu 3rd,
Fri 4th, Sat 5th, Sun 6th May 10am-4.30pm,
Entry: Gold coin donation to Bright Hospital
---
Visit a lavender farm and see the range of products created from this one plant, grown and distilled on the farm. Fresh Devonshire teas, espresso coffee & lavender products are available for purchase.
Bill & Verona Sullivan (0408 698 456)
14. Granny's Pantry 'Secret Garden'
56 Great Alpine Road, Harrietville
View map
---
Open: Fri 27th, Sun 29th, Mon 30th April, Tue 1st, Wed 2nd, Thur 3rd, Fri 4th May. - 10am - 5pm
Entry: Gold coin donation. Proceeds to Harrietville Primary School
---
This garden is a work in progress. Being a secret garden means that you can't see what is around the corner. Created with recycled bricks, timber and corrugated iron it offers a rustic look at the world of plants. The garden is exposed to many winter frosts and most of the area is in part shade. We value any advice or suggestions from our visitors regarding plant choice or position. Looking forward to meeting you.
Brian & Jan Fleming (0400 990 699)
15. Shady Brook Cottages
20 Mountain View Walk, Harrietville
View map
---
Open: From 10am - 4pm daily. Buses/large groups by prior appointment please
Entry: $5 adults, $3 Concession (children free). Proceeds to Harrietville community groups - garden notes, tea/coffee provided. Allow at least one hour.
---
A spectacular 14 acre garden of which over 5 acres are landscaped, bounded by the Ovens River and a mountain backdrop of natural forest. The Garden is only 16 years old but its micro environment has accelerated maturity. Exotic trees include maples, oaks, magnolias, dogwoods, birches and conifers, many of which are rare. Along the mountain edge and throughout the garden are hundreds of camellias, viburnums, rhododendrons, azaleas and Australian native plants. Hydrangeas add magnifcent colour in protected shady areas. Amble along the tracks and enjoy the prolific bird life. The water features and vegetable garden add another dimension.
John and Anne Atkins (0438 050 475)
16. Eagles Rest
7 Mill Road, Harrietville
View map
---
Open: Fri 27th, Sat 28th Sun 29th April, Thur 3rd, Fri  4th, Sat 5th & Sun 6th May - 10am - 4pm
Entry: Gold coin donation. Proceeds to Harrietville Fresh Food Project.
Sunday 29th April the Harrietville Fresh Food Project will have its monthly Food Swap meeting at Eagles Rest between 12pm and 3pm. Come along and sample, share and chat.
---
An intense garden landscaped magnificently on 1 acre. Planted with a wide variety of trees and shrubs, many manicured and shaped for effect. Water features, raised vegetable garden and free range poultry in a tranquil, serene setting.
Jan O'Çallaghan & David Fagan (0488 640 851)
17. Mountain Creek Artworks
1002 Mountain Creek Road, Tawonga
Turn the first left at Mountain Creek Road just past the Tawonga school, 10.02km, gate on right hand side, look for the sign and the unicycle on the gatepost.
View map
---
Open: Sat 28th, Sun 29th & Mon 30th April - 10am - 4pm,
Entry: Gold coin donation for tea and coffee
---
Developing woodlands with native trees and exotics, including deciduous trees, californian redwoods, himalayan cedars and two dams. Some exotic trees available for sale.
Open Studio/Gallery showcasing paintings and original handmade prints inspired by the local environment for viewing and sale.
Bärbel Ullrich & Malcolm Bird (0408 466 790)