In April and May, walnuts, hazelnuts and chestnuts fall in orchards, backyards and along the lanes of Wandiligong.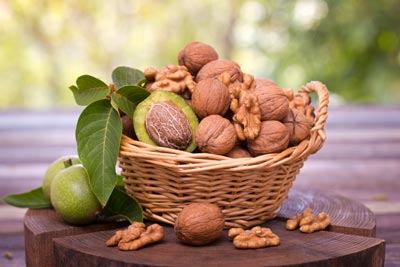 Heritage apples litter the grass verges and blackberries twine through the fences. Residents and visitors gather this windfall to create jams, pastes, soups, or simply to gorge. The Wandiligong Nut Festival is your opportunity to join us in celebrating the harvest.
Wandiligong is a small, semi-rural settlement of about 400 people located approximately 350 km north-east of Melbourne at the foot of the Victorian Alps. The festival, begun in 2001, was initially a low-key, local affair but has now grown to include a market, art, music, and food and wine events.
More details of events can be found on the festival program.
This year's festival is on Saturday 29th April 2017. For more information, visit brightvic.com/wandinutfestival.
Events and Activities
All Day
• Produce and Artisan Market
• Chestnut roasting, Chestnut Soup
• Children's Train Rides, Face painting, T-shirt painting
Live Music
• The Growlers Creek Band
• Waterline The Band
For The Kids
• 11.30am Children's Games (1 hour)
• 1pm - 4pm Puppet Shows
Food & Wine Tent
• 10.45am - Roasted Chestnut tasting - Chestnuts Aust. Inc.
• 11am - Chestnuts Three Ways - Anthea Markowiak
• 12 noon - Feature Event - Chestnut Gnocchi with a walnut sauce - Patrizia Simone of Simone's Cooking School followed by wine matching and tastings with Mark & Julie Holm of Ringer Reef Winery
• 1.30pm - Chestnut Hummus and Chestnut Pancakes - Sam Martin of Coral Lee Cafe
• 2.30pm - Chocolate Hazelnut Buter - Catherine Morgan of the Wandiligong Hall Commitee
Getting there
The Wandi Nut Festival is held at Alpine Park, Wandiligong, just a short drive from Bright.
A Shuttle Bus service will run on the day from 10am-2pm, leaving from the Memorial Clock Tower in Bright.
The Bright Autumn Festival is a celebration of autumn in Victoria's Alpine High Country.
Find out more
The 2017 Bright Autumn Festival has a fantastic program, with activities to appeal to all.
View the program
The Bright Autumn Festival could not exist without the fantastic support of our sponsors.
Find out more