Harrietville Open Gardens
Harrietville Open Gardens

< Back to Open Gardens overview
13. Lavender Hue
20 Great Alpine Road, Harrietville
View map
---
Open: Fri 27th, Sat 28th, Sun 29th Apr, Thu 3rd,
Fri 4th, Sat 5th, Sun 6th May 10am-4.30pm,
Entry: Gold coin donation to Bright Hospital
---
Visit a lavender farm and see the range of products created from this one plant, grown and distilled on the farm. Fresh Devonshire teas, espresso coffee & lavender products are available for purchase.
Bill & Verona Sullivan (0408 698 456)
---
14. Granny's Pantry 'Secret Garden'
56 Great Alpine Road, Harrietville
View map
Open: Fri 27th, Sun 29th, Mon 30th April, Tue 1st, Wed 2nd, Thur 3rd, Fri 4th May. – 10am – 5pm
Entry: Gold coin donation. Proceeds to Harrietville Primary School
---
This garden is a work in progress. Being a secret garden means that you can't see what is around the corner. Created with recycled bricks, timber and corrugated iron it offers a rustic look at the world of plants. The garden is exposed to many winter frosts and most of the area is in part shade. We value any advice or suggestions from our visitors regarding plant choice or position. Looking forward to meeting you.
Brian & Jan Fleming (0400 990 699)
15. Shady Brook Cottages
20 Mountain View Walk, Harrietville
View map
---
Open: From 10am – 4pm daily. Buses/large groups by prior appointment please
Entry: $5 adults, $3 Concession (children free). Proceeds to Harrietville community groups – garden notes, tea/coffee provided. Allow at least one hour.
---
A spectacular 14 acre garden of which over 5 acres are landscaped, bounded by the Ovens River and a mountain backdrop of natural forest. The Garden is only 16 years old but its micro environment has accelerated maturity. Exotic trees include maples, oaks, magnolias, dogwoods, birches and conifers, many of which are rare. Along the mountain edge and throughout the garden are hundreds of camellias, viburnums, rhododendrons, azaleas and Australian native plants. Hydrangeas add magnificent colour in protected shady areas. Amble along the tracks and enjoy the prolific bird life. The water features and vegetable garden add another dimension.
John and Anne Atkins (0438 050 475)
16. Eagles Rest
7 Mill Road, Harrietville
View map
Open: Fri 27th, Sat 28th Sun 29th April, Thur 3rd, Fri  4th, Sat 5th & Sun 6th May – 10am – 4pm
Entry: Gold coin donation. Proceeds to Harrietville Fresh Food Project.
Sunday 29th April the Harrietville Fresh Food Project will have its monthly Food Swap meeting at Eagles Rest between 12pm and 3pm. Come along and sample, share and chat.
---
An intense garden landscaped magnificently on 1 acre. Planted with a wide variety of trees and shrubs, many manicured and shaped for effect. Water features, raised vegetable garden and free range poultry in a tranquil, serene setting.
Jan O'Çallaghan & David Fagan (0488 640 851)
This festival showcases the wonderful produce and crafts of Wandiligong, famous for it's nut and fruit orchards.
Grab your partner and swing on into Bright Brewery for a colourful night of bush dancing.
An event for photographers to shoot, share & find all the best locations to catch the local Autumn colours.
Spanning over 50 years, the Bright Autumn Art Show is one of Australia's oldest and longest running art shows.
The 2018 Bright Autumn Festival has a fantastic program, with activities to appeal to all.View the program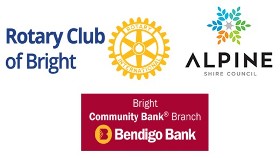 The Bright Autumn Festival could not exist without the fantastic support of our sponsors.Find out more