Autumn 2022 - Open Gardens
Proudly sponsored by Tatanka Gardens, Nursery and Cafe
Look for 'Open Garden' signs
Fourteen wonderful gardens are on display. Enjoy their splendid autumn colours and be inspired by their diverse styles and designs. Some gardens are long established, others only a few years in the making. You will find a range of exotic and rare trees, ornamental plantings, plus gardens directed towards sustainable food sources. There are formal gardens, wild gardens, and farm gardens. Meet the gardeners; learn about their methods, plantings and ideas.
Which garden is open on this day:
Fri 22 Apr  –  Gardens 1, 2, 4, 6, 10, 14 (check times at garden listing below!)
Sat 23 Apr  –  Gardens 1, 2, 3, 4, 5, 6, 7, 8, 9, 13, 14
Sun 24 Apr  –  Gardens 1, 2, 3, 4, 5, 6, 7, 8, 9, 10, 11, 13, 14
Mon 25 Apr  –  Gardens 1, 2, 3, 4, 6, 10, 11, 13, 14
Tue 26 Apr  –  Gardens 1, 2, 4, 5, 6, 10, 13, 14
Wed 27 Apr  –  Gardens 1, 2, 3, 4, 6, 10, 13, 14
Thu 28 Apr  –  Gardens 1, 2, 3, 4, 6, 10, 11, 13, 14
Fri 29 Apr  –   Gardens 1, 2, 3, 4, 6, 7, 10, 11, 12, 13, 14
Sat 30 Apr  –  Gardens 1, 2, 4, 6, 7, 8, 9, 10, 11, 12, 14
Sun 1 May  –  Gardens 1, 2, 4, 6, 7, 8, 9, 10, 11, 12, 14
1. Tatanka Gardens, Nursery and Cafe
Autumn is the perfect time to explore the gardens featuring Maples, Sapium, Nyssa, Dogwoods and many more interesting varieties. Wander through the nursery and homewares shop to find the perfect piece for your garden or home. The outdoor nursery stocks an extensive range of quality plants and you will often find something unusual. Qualified horticulturists are available to help you select the perfect plant, pot or garden art for your space. The indoor nursery is warm and welcoming and features a large range of pots, homewares and gifts plus a cafe offering delicious coffee, cakes, toasties, ice creams and cold drinks. Located opposite the rail trail between Myrtleford and Bright, Tatanka Gardens is also bike friendly and a unique destination for everyone including your four legged friends
2. Chestnut Tree Holiday Units

Tracy and Peter
154 Delany Avenue, Bright. View map.
Entry: Gold coin donation. Proceeds go to Bright Autumn Festival
Three acres of landscaped gardens, rock walls, hedges, Standard Roses, Dogwoods, Maples, Mt Fuji Weeping Cherries, Catalpas, Weeping Elms and Mulberries.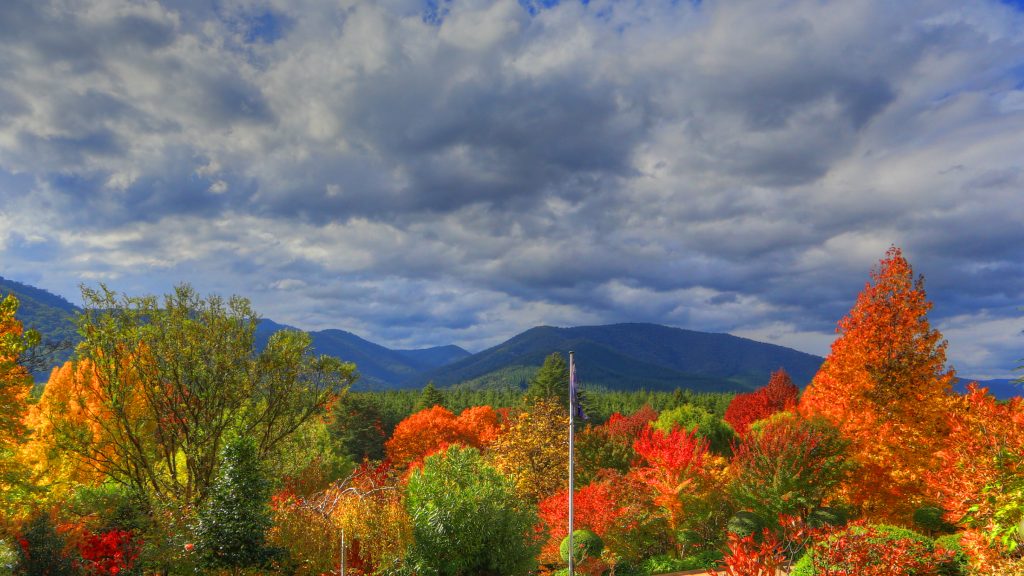 Christine
13 Railway Avenue, Bright. Next to the Bright Museum. View Map.
Ph: 0407 511 360
Entry: Gold coin donation. Proceeds go to ECSA Dog Rescue
Sat 23, Sun 24, Mon 25, Wed 27, Thu 28 and Fri 29 – 11am to 3pm
Private town garden, framed by heritage listed 100 year old trees. This much loved garden
allows you to wander through its collection of traditional and cottage plants and trees. An
assortment of unusual, crafted garden art enhances the garden. The home sits
harmoniously within the 1/2 acre site, allowing you to wander throughout.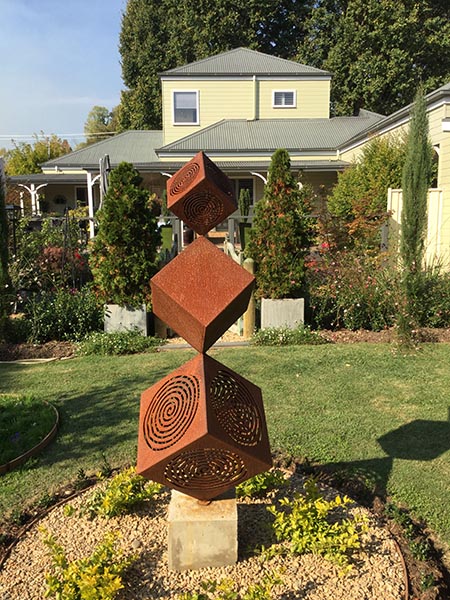 4. Alpine Perennials Nursery
Open: Daily – 9:30am to 4pm.
Alpine Perennials Nursery at Harrietville are specialist growers of beautiful flowering plants and shrubs. Since opening in September 2021, the nursery has experienced great support from locals and tourists. The majority of Alpine Perennials plants are grown on-site and are acclimatised to the conditions of the Alpine region. Craig and Julie Hulbert bring many years of horticultural expertise to the region with their extensive background in the nursery and landscaping industry.
Lisa and Kellie
7377 Great Alpine Road, Bright. View Map.
Ph: 0408 392 919
Entry: Gold coin donation. Proceeds go to Reach Out Wildlife Australia (ROWA).
Open: Sat 23, Sun 24 and Wed 26 April – 11am to 3pm
The rustic charm of this garden has a distinct tropical feel. You will find Palms, Ferns, a dry river bed and fish pond.
6. Bright Accommodation Park
Tracey and Ludy
438 Great Alpine Rd, Bright. View map.
Ph: 0439 913 310
Entry: Gold Coin Donation to Bright Autumn Festival
Come and enjoy our fabulous, well established garden featuring two magnificent heritage listed Shaddock Trees (citrus Grandis) dating back to the 1880s. You are welcome to read up on the history of the site and sample the fruit when available. Our garden also contains feijoa, pear and plus trees, crepe myrtle, oak and claret ash trees and an elm tree canopy.
Julie
414 Back Porepunkah Road, Bright. View Map.
Ph: 5750 1700
Entry: $2 per adult. Proceeds to "Save the Bees"
Open: Sat 23, Sun 24, Fri 29, Sat 30 April and Sun 01 May – 11am to 3pm
A beautiful, mature woodland garden, a variety of Arbre, lovely setting to lose yourself in.  Colourful oaks, liquidambar, silver birch, azaleas, camellias and much more. Plenty of parking and seating.
8. Homestead Estate Winery and Olive Grove
Noela and Micheal 
713 Happy Valley Road, Rosewhite. View map.
Ph: 0417 258 997 or 03 5753 5318
Entry: $4 per adult. Proceeds go to "Friends of Lacluta"
Open: Sat 23, Sun 24, Sat 30 April and Sun 01 May – 10am to 4pm
The garden was first established in 1869 and has seen many changes. Original trees include Magnolia Grandiflora (1872), a grove of Elms and a Hoop Pine. Recent additions are an avenue of Red Oaks, Ginkgoes, Silver Birch, Magnolias, Manchurian Pears, Claret Ash, two vineyards and olive groves. Roses and Peonies are the stars of the cottage garden and a Camellia Sasanqua hedge in infancy. Wine and olive oil tasting and Devonshire teas are available. Tours of the Historic Homestead at 11am, 1pm and 3pm.
9. Buffalo River Native Nursery
Darrell and Cheryl
9 Merriang South Rd, Myrtleford. View map.
Ph: 0448 522 593
Entry: $2 per adult. Proceeds go to Buffalo River CFA.
Open: Sun 24, Fri 29, Sat 30 April and Sun 01 May – 9:30am to 4:30pm
A large garden with mainly native plants. Several indigenous trees grow along the river. Plenty of native and exotic plants are for sale in the nursery.
10. Nightingale Bros Alpine Apples Garden
We have many varieties of roses: standards bush and weeping. Rhododendrons, beautiful Azaleas and Hydrangeas. A variety of Conifers, Poplars, Maples and Dogwoods, including many Acers.
11. Mountain Fresh Trout and Salmon Farm
Sally and Peter
10 Stony Creek Rd, Harrietville (4km before Harrietville). View map.
Ph: 5759 2558 A/H 5759 2669
Entry: Free, voluntary donation to Church of Christ, Bright
Open: Sat 23, Sun 24, Mon 25, Thu 28, Fri 29, Sat 30 April and Sun 01 May – 10am to 4pm
Essentially a fish farm with a lot of ponds to wander around. Planted with many deciduous trees, with an array of stunning autumnal colours. And of course, you are welcome to catch a fish! Fish, smoked trout, smoked salmon, delicious pâté and caviar for sale
12. The Twisted Peppermint
Glen and Andrea
15 Higgs Lane, Wandiligong. View map.
Ph: 0419 200 688
Entry: Gold coin donation. Proceeds go to Four Kids and Carers Future Foundation.
Open: Fri 29, Sat 30 April and Sun 01 May – 10am to 4pm
Located in the beautiful valley of Wandiligong, you will find a true gardeners' garden belonging to Glenn and Andrea Jordan. The garden has been a work in progress over many years and continues to slowly evolve over time. It includes a diverse range of both exotic and native plants suited to the four seasons of the area.
13. Granny's Pantry 'Secret Garden'
Brian and Jan 
56 Great Alpine Road, Harrietville. View map.
Ph: 0400 992 699 or 5759 2699
Entry: Gold coin per adult. Proceeds go to the Harrietville Primary School.
Open: Sat 23, Sun 24, Mon 25, Tue 26, Wed 27, Thu 28 and Fri 29 April – 10am to 5pm.
This garden is a work in progress. Being a secret garden means that you can't see what is around the corner. Created with recycled bricks, timber and corrugated iron, it is offers a rustic look at the world of plants. The garden is exposed to many winter frosts and most of the area is in part shade. We value advice or suggestions from our visitors re plant choice or position. Looking forward to meeting you.
John and Anne 
20 Mountain View Walk, Harrietville. View map. 
Ph: 0438 050 475 
Entry: $5 per adult (children free). Proceeds to local charities. Complimentary Tea/Coffee provided on walk.
Open: Daily – 10am to 4pm.
A spectacular 14-acre garden of which over 5 acres are landscaped, bounded by Ovens River and a mountain backdrop of natural forest. The Garden is only 20 years old but its micro environment has accelerated maturity. Exotic trees include Maples, Oaks, Magnolias, Dogwoods, Birches and Conifers, many of which are rare. Along the mountain edge and throughout the garden are hundreds of Camellias, Viburnums, Rhododendrons, Azaleas and Australian native plants. Hydrngeas add magnificent colour in protected shady areas. Amble along the tracks and enjoy the prolific bird life. The water features and vegetable garden add another dimension.